There is a path we all chose and most of the time we don't know we are choosing it.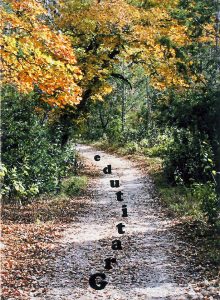 When I look at this picture I am remembering that statement. It is true that everyone has their own specific gardens, quicksands, and mud holes (to put it lightly), however, my quick reference is to see how most of us (including myself) – want to blame the "mud hole" for getting our clothes dirty!
Okay, so I know you catch what I am saying. It is always someone else's fault! Well, this path reminds me of a way out. It's funny, but the way 'out' came from 'within'. I don't pretend I know any answers for you…However, I do know what works for me. The image you see here had to come from somewhere. You can look it up on a map or you can open your gut and spew out the false recordings and short one liners you're filled with that keep you away from feeling adequate. All the intellect, all the books and degrees won't keep out the insecurities or misunderstandings we all hoard until the day of reckoning…the day to do or die. So, as you keep walking down the street, take a look at the road you are on.